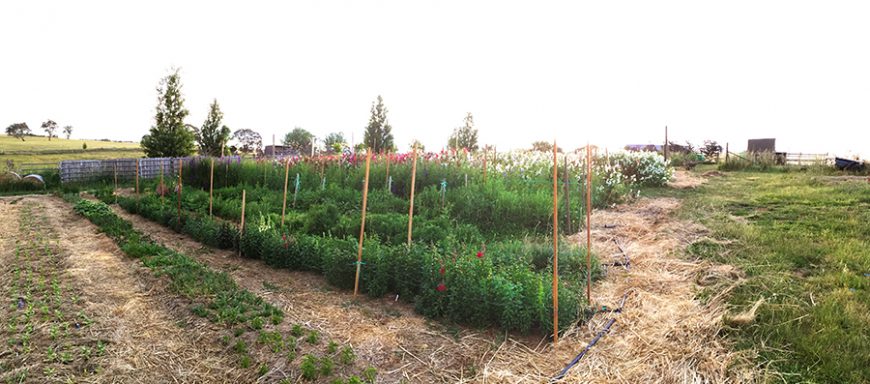 Hay mulch, weeds and weed mat
To quote Dr Wayne Dyer, "The only difference between a flower and a weed is a judgement".
We get asked a lot of questions about our practice of using hay mulch, rather than weed mat in our beds. The main question is, does the grass seed in our hay actually end up creating a weed issue for us? Our answer is a big, fat, whopping YES… and NO!
This is where judgement comes into play.
After years of making war on weeds we're now seeing weeds through a whole new lens – and that maybe they even have some possible benefits! First up though, I thought I'd share some of our personal observations and learning here at Good Hope Blooms around the pro's and con's of using hay mulch. I'll then do a second blog post later to get into some of the benefits of weeds. We are in no way experts on any of this but I hope in sharing our experience of using hay mulch you might find something helpful for your farming context.
Our first ever flower crop was planted into black woven plastic weed mat. At the time using black weed mat made me feel that my farm looked all neat, tidy and professional. I felt like I was rolling out the red carpet for my plants and also saving money and time on weeding. But it wasn't too long before the weeds were pushing their way through the weave of the weed mat, or through tears. Weeds were also growing in the soil that inevitably works its way on top of the mat. And what a nightmare it was to pull up weed riddled plastic mat!
Image credit @honeyatkinson

We quickly worked out that if water can get through the weed mat, then there's a good chance weed roots can too. And if water can't pass through the mat then that's probably even worse! We found that the soil and our plants were getting fried by the heat generated from black weed mat in our hot summers. Definitely not good for our plants nor probably the soil biology. On pulling up the weed mat our hearts sank. The soil below it was hard, compacted, hydrophobic and pretty well lifeless.That was enough for us to want to make a change.
So now, rather than using non-degradable, biodegradable or degradable weed mat to cover our soil, we cover it with something compostable. Something that works the way nature intended and actually feeds the soil and the diversity of life dependent upon it. Bare soil quickly becomes unhealthy soil so we aim to always have something living and compostable in, or on, our soil –  be it flower crops, cover crops, grass/weeds, or hay/wood mulch.
The terms biodegradable and degradable when it comes to weed mat can sound promising, but sometimes it just means the weedmat degrades into smaller particles of petrochemical derived plastic in the soil eg. microplastics. There's currently a huge worldwide movement to remove microplastics from our oceans and perhaps a little more of that kind of consideration needs to be given to our soil and farming practices too? I'll admit here that we're not perfect either when it comes to the total elimination of farm plastics – we still use things such as plastic irrigation tape and frost fabric- so we've definitely got room for further improvement.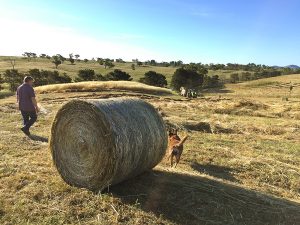 Each spring a friend cuts the grass from our paddocks and bales it into large round hay bales. He keeps some bales for his cows and we keep some for our garden. It works well for both of us, with each of us getting free hay bales. So this is the hay we use to mulch our flower beds with. Using hay from our own farm means we know it's chemical free and won't introduce any new weeds on to our property.
When a flower crop is finished we clear it from the bed and then add any soil amendments. With the irrigation tape in place, we roll the hay bale out over the bed, so in just a few minutes we have a bed ready for new transplants to go in.
If we don't have transplants ready to go in straight away (or time to grow a cover crop) we don't have to worry too much as the soil is covered with the hay protecting it from drying out and erosion; weeds are suppressed and the soil and it's critters have a source of nutrients to feed on courtesy of the mulch. The strands of hay in our bales can be quite long, so if we require a finer mulch  eg: to place around smaller/established plants, we just roll the hay out and run the ride-on mower over it. For those times we want to direct seed a bed, we don't mulch the bed straight away with hay. Between sowing the seed, and eventually mulching the subsequent seedlings with hay, we can control the weeds using a collinear hoe if desired.
We sometimes grab a tiny sample of the hay mulch from the soil/mulch interface of our beds and look at it under the microscope. We can see that it's teeming with microscopic life forms. Digging a little deeper in our beds reveals a huge number of earthworms who create tunnels up to the mulch to feast on it. It's hard to imagine plastic weed mat encouraging quite so much life and activity. Mother Nature has developed systems over eons to efficiently utilise organic matter in a way that benefits and encourages health and biodiversity, not just in the soil but for the entire web of life. I can only  imagine plastic is a little harder for her to deal with. Each round hay bale weighs approx 300-400kg and covers roughly 3 to 4 of our garden beds. So that's 100kg of free organic matter and nutrients being added to each bed.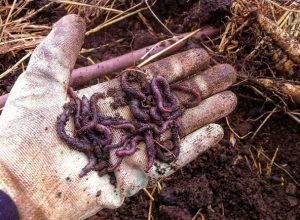 Our valley is renowned for having some of the worst quality water in the country. It's high in minerals and salt. Our dam water used to irrigate our flower crops is quite saline. Just 500m from our flower beds are patches of ground subject to dry land salinity. Irrigating crops (as we do) has the potential to make soil salinity problems worse. The organic matter we add to our beds via the hay mulch seems to be helping to reduce the salt content of our soil. We monitor the salinity levels in our flower beds through regular soil tests and these tests show it is trending downwards. Hopefully, we are right in this assumption and the decline in salinity continues.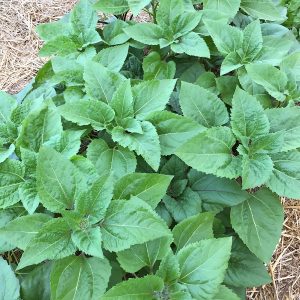 So here's a list of some of Good Hope Blooms personal pro's and con's of hay mulch versus weed mat! (sorry in advance for some repeats from those mentioned above)
PRO'S of hay mulch:
It's free (if you grow your own)
It's organic, 100% compostable and chemical free – unlike weed mat which is made from petrochemicals that can degrade to micro plastics in the soil.
No new weeds introduced because it comes off our own farm
Helps suppress weeds allowing our flower seedlings to get a head start on any weeds
Retains soil moisture, saving us water
Adds organic matter and nutrients to soil = essentially free fertiliser
Improves water infiltration
Keeps soils/roots/plants cooler during our often extreme summer heat
Organic matter introduced via hay mulch can help reduce salinity problems
Feeds and fertilizes the soil and promotes biodiversity of soil life forms, such as worms, microbes and fungi.
Helps prevent soil erosion.
Helps keep soil from compacting/ improves soil structure.
Makes any weeds that do grow easier to pull out. (It's much harder to pull up plastic weed mat that's full of weeds).
Mulching paths reduces need for mowing, prevents erosion, retains moisture for entire garden and feeds soil in adjacent beds
Weeds that do grow may actually have some benefits ( more on this in next post)
We think it looks tidy.
Won't end up in landfill or as microplastic or having to be burned to dispose of like some farmers end up doing with weed mat.
Will regenerate soil, which is something plastic mat can never do!
Much easier to pull back hay mulch than weed mat to repair damaged irrigation/ apply amendments/ check soil condition etc
By rolling the hay out you can mulch an entire row in a few minutes.
Organic matter such as hay harbours beneficial bacteria and fungi. One example is  Bacillus subtilis aka Hay Bacillus which is a beneficial bacteria (a type of probiotic) found in hay which helps plants fight mildew and is also beneficial for bee health.
CON'S of hay mulch for us:
Contains weed seed, so while it initially suppresses weeds, it will inevitably lead to weeds and weeds can out compete flower crops. (If you're able to afford your own baler, then you could cut and bale the grass when it has less seed to reduce this problem).
You will spend more time weeding ( I think there is an upside to this however as time spent down at ground level weeding allows you to notice and potentially catch earlier any issues that might be developing with your soil or plants).
Encourages snails/slugs. We don't have that big a problem with this, however at times we have used organic/pet friendly iron based snail pellets – our soil here is naturally prone to iron deficiency so having these pellets deal with slugs and then eventually breakdown to elemental iron in our soil is actually a win/win.
Bales are big and heavy to handle so need a tractor to move about.
In drought years not enough grass grows to bale, so we need to buy in mulch = expensive.
May have to mow or mulch hay to make finer mulch = time consuming
It can be dusty so you may bring on allergy issues when putting it out!
Breaks down fast and needs replacing more often than plastic mat.
If you have to source your hay from outside your farm you need to be very careful of bringing in noxious weeds and also bringing in persistent herbicides eg pyralids which can do long lasting damage to your soil and plants. Charles Dowding has a great video on the awful effects on your plants from persistent herbicides introduced onto your farm through hay and compost.
If you've made it this far through the article – well done and thank you for your perseverance! And just touching again on the theme of judgement. Please remember what I'm sharing is our own personal beliefs and experiences of what works for us in our particular context. We're by no means experts and what we do is certainly not perfect, so just please know there's no judgement intended if you are someone who uses weed mat. One thing flower farming has taught me is that everyone's context is completely different and you need to do what works best in your unique set of circumstances.
In our next post we will get to those weeds and just why we're now thinking they may not be so bad after all…
Thanks again and cheers
Brenda – Good Hope Blooms